The Norwegian participation in the transnational project Hippocampus is by NTNU, the largest university in Norway, with researchers from the department of psychology.
In the autumn semester of 2018 the 8-week yoga programme of the Hippocampus project was shared with 92 students from Charlottenlund High School, 15 students from the Trondheim international School (Secondary School) and with 8 teachers from the Charlottenlund High School..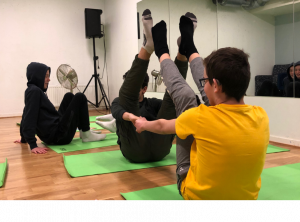 Trondheim is a city in the middle of Norway, where one of Norway's eldest yoga centers is located, Zenit Yoga. To manage yoga classes of maximum 20 students per class, we had great use of the large end engaged yoga community in Trondheim as we had to follow the time schedule of the school and provide yoga to relatively small and more manageable groups suitable for teenagers. We had a meeting at Zenit Yoga where Elin Øvretveit, our yoga teacher trained in the TYF yoga manual, had a 4 hour long interactive teaching to several certified yoga teachers. Throughout the project we have used 7 yoga teachers working with the 8-week yoga programme, or intervention in research terms.
In spring semester of 2019, we continued giving 8-week courses in order to enroll more teachers in the project and also provide yoga to a population consisting of more disadvantaged people. Two new schools Charlottenlund Secondary School and Heimdal high school were added in the project, and having two more 8-week courses at Charlottenlund high school(class of migrants) and Trondheim International School(teachers).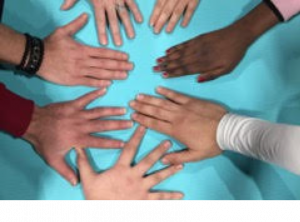 By doing this we enrolled two different groups of students consisting of migrants, one recently arrived in Norway at Heimdal High School and one group a bit further trained in the Norwegian language preparing for ordinary high schools at Charlottenlund. These high school programmes for migrants are a part of an Adult Learning Program in Norway.
The evaluation of the course by the yoga teachers showed that in general the ambiance, spirit and forms of group pressure amongst the students varied a lot from group to group. There are big differences in how comfortable the students are with doing the asanas or physical exercises, but we have also experienced that a little nudging goes a long way, to encourage pupils just to try it out.
In one of the groups of migrants, the language was a challenge since mother language was among others Darsi, Somali and Kurdish and they knew little or no Norwegian nor English. We decided to let their class teacher join the yoga classes for teenagers. This was very stimulating both for encouraging the students to try out strange physical exercises and empowering the teacher to give small elements of yoga in her classes. They have even used yoga as a portal into language learning, learning new words for body parts, organs, functions as well as words describing the brain, mind, thoughts and feelings.
From our 7 yoga teachers we've experienced that a good balance between acceptance and discipline is to be strived for giving these classes to teenagers. Some students hid under their hoodie refusing to participate, some managed any pose but claimed to be bored, others showed shyness but gradually participated more yet others looked forward to every yoga class. And often the most reluctant to do yoga in the end embraced yoga the most.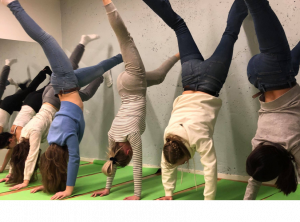 The teenager participants requested more Yoga Nidra, relaxation and meditation. The relaxation exercises and meditations like guided meditation and mindfulness, Yoga Nidra and Savasana or Corpse pose, the very last of asanas in a yoga sequence where you lie open letting the effects of yoga be registered, are the most popular amongst all the students. Some say they do think that the physical exercises or asanas are a very important part of the practice before they can get themselves to relax their body and mind.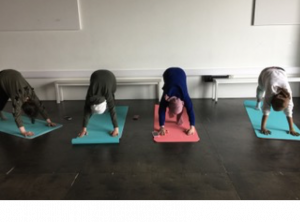 The yoga teachers said that the teenagers were tired, due to a lack of sleep and a lack of silence. What we also see with a lot of the migrants is a great appreciation of breathing exercises, meditations and visualizations. One of the yoga teachers made a short mindfulness audio for her class of migrants, and some of them used it in order to sleep better. Several of the migrants have suffered trauma and carry painful memories in addition to the stresses of learning everything new in school and in a new environment. They report having experienced that yoga has helped them forget about bad memories and war, as a possibility to return to these tools purposefully or even just as a small break. One girl puts it this way:
«I am very lucky to have learned yoga. I can forget about war and choose the positive things and thoughts»
Several of the teenagers seem to have found new ways of coping and handling their feelings, and a boy said:
«I don't have to get so angry anymore. I can choose to channel the energy into sports and other activities. »
Some teens say it is so good for the body and the brain to have a break in the school day with yoga, that they finally get some rest during the yoga class. Others would prefer to have the yoga class at the end of the day as they feel they are very tired and aware of their need for rest after yoga.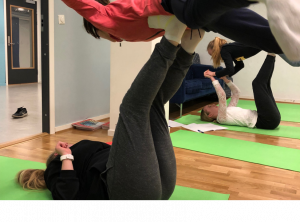 For the part of the project giving 8-week yoga courses to teachers at the 4 schools participating in Norway, we have had 4 courses one for each school, taught by 3 different yoga teachers. Some have gained a better understanding of the theory behind yoga and meditation than what they had before, and some have embraced a much-needed time to just take care of themselves. One teacher says:
«I feel so tired after the yoga class, but when I get off the mat and into the classroom again I experience I have more energy than before the class, and I'm also more patient with my students».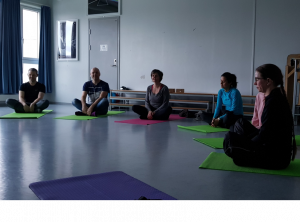 One teacher has discovered the effective small elements of yoga and how she can apply it in a very uneasy and noisy class:
« Just a little breathing creates so much difference in energy in the class»
Another report from the teachers is that they are so inspired to know that yoga is not about acrobatic models but about small, tiny adjustments and about giving respect to oneself.
All in all, 200 teenagers and 49 teachers in 4 schools have participated in the Hippocampus project in Trondheim, taught by 7 yoga teachers. We are excited to see how we can continue and sustain yoga in Norwegian schools in the future.