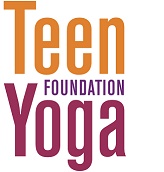 The Teen Yoga Foundation is the leading body working on yoga for teenagers in the UK. Our main mission is to promote the well-being of young people through the practice of yoga, in schools and elsewhere, in the UK. In particular, we address the issue of increasing mental health problems amongst teenagers.
Though the Foundation itself is relatively new (set up in 2015), we have been doing this work as unpaid volunteers for over ten years, the Foundation now wishes to expand and take this work to a new level and to reach even more young people. The core team have been working within the fields of mental health, education and with young people since the 1990's for many years. We support nearly 450 teen yoga teachers who teach 45000 young people a year. Our main beneficiaries are young people, but we have found all those who work with young people benefit from the teenagers increased sense of wellbeing and the ability to deal with stress.
We have extensive contacts with University research departments working on yoga research around the world, an strong network of teachers, both mainstream and yoga for teens and established contacts amongst policy makers, so we feel the Foundation is best placed to respond to the growing problem of mental health issues amongst teenagers, particularly the disadvantaged.
Researchers